Drew Company has an experienced event management team in place to develop and execute a wide range of events. From Grand Openings to Galas, from Festivals to Conferences, Drew Company uses a synergistic blend of strategy, best practices and leading-edge creative thinking to help our clients produce impactful events and experiences that leave lasting impressions and deliver tangible results.
By using a collaborative and an immersive approach for event management, Drew Company seamlessly coordinates and communicates with the client and each event vendor, such as audio visual and production directors, lighting experts, and entertainers, to ensure that every detail is executed flawlessly. Well-trained and experienced event managers react and respond to every last-minute change, challenge or request so that the guest experience exceeds expectations and the client can enjoy the event rather than focus on logistics.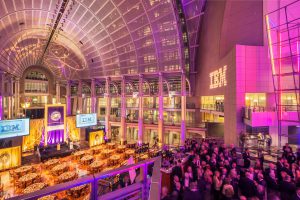 We recognize the value of events and experiential marketing in our clients' sales and marketing strategy and strive to provide attendees with an exceptional environment, operational excellence and unparalleled inspiration.
In addition to producing events at Drew Company operated venues, our team is under contract with the US Trade and Development Agency to produce a number of trade-related events and trips in Washington, DC and around the world. Drew Company also provides event management services to several clients throughout the year that do not necessarily hold the event at our venues.
Featured Event Images: