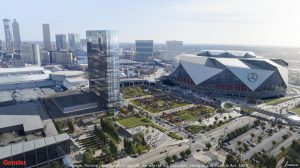 Atlanta's biggest hotel project in decades is set to break ground after a disruption in financing caused over a year of delays.
Construction for Drew Co.'s 975-room, full-service Signia hotel overlooking Mercedes-Benz Stadium begins at the end of the month. The Boston-based hotel developer is bullish that Atlanta's first convention hotel in nearly two decades will be a success — despite a number of operators nationwide cutting expenses amid depleted occupancy rates due to the Covid-19 pandemic.
The estimated $500 million hotel project on the Georgia World Congress Center Authority (GWCCA) campus is expected to be completed by the fall of 2023.
"We feel confident by the time we open the doors things are going to be back to pre-Covid levels, maybe even better," said Theonie Alicandro, Drew Co.'s chief operating officer. "I've seen projections that say a lot of the risk will be mitigated."
Signia, an upscale meetings brand from Hilton Worldwide Holdings Inc. (NYSE: HLT), is a new concept in Atlanta. It's expected to attract and accommodate more visitors to the downtown area. It could also play a role in revitalizing Atlanta's Westside, potentially driving commercial and residential development.