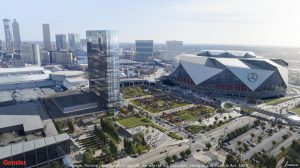 A 40-story Signia by Hilton hotel project planned for the Georgia World Congress Center Authority campus is scheduled to start construction next week, according to updated project information provided at the start of this month.
Plans for the project, which involves developer Drew Company, property owner GWCCA, and contractor Skanska USA, go back several years, originally calling for a 30-story hotel with as many as 1,001 rooms. Now close to a groundbreaking, the project is slated to rise 40 levels and hold 975 rooms just north of Mercedes-Benz Stadium. It is scheduled to open by the fall of 2023 after a 34-month construction schedule.
The Gensler-designed tower will total about 1.2 million square feet, including about 75,000 square feet of event space. Within that, plans call for a roughly 40,000-square-foot grand ballroom and about 18,000 square feet of meeting rooms. The Signia brand is billed by operator Hilton as a premier meeting and event hotel.
The project will also have about 32,500 square feet of amenity space, including three bars, two restaurants, a market, a pool deck, and wellness space, as well as 31,000 square feet of outdoor areas featuring an event lawn and event deck, plans show. It will provide 466 parking spaces.