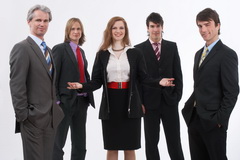 The Drew Company, located in Boston, Massachusetts, is a privately held real estate development, management, and consulting firm founded in 1982 by John E. Drew. Best known for its deep experience in real estate development, management and consulting, the Drew Company currently oversees a broad range of ventures, spanning real estate, hospitality, technology, and entrepreneurial investment.
Among notable real estate projects, the company developed the 2.5 million square foot Seaport Hotel and World Trade Center Boston Complex and the 3 million square foot Ronald Reagan Building in Washington D.C.'
The firm's past developments include the Great Woods Center for Performing Arts (now called the Tweeter Center), the Bayside Exposition Center, and Constitution Plaza in Boston, MA.' The company's latest projects, Waterside Place and Waterside Crossing in Boston's Seaport District, will feature retail shops, a hotel, residential units, and parking.
The firm also provides asset management services as well as development advisory services to businesses in the United States and abroad.' Recent initiatives include the launching of a World Trade Center in Dublin, Ireland, and WebPort Global.
Services

• Real Estate Development

• Real Estate Management

• Trade Center Management

• Hospitality Consulting

• Event Management Services

• International Trade Services
Our World Trade Centers

In addition to Drew Company's core real estate business, the firm has had over 25 years of experience in owning and managing trade center operations. John E. Drew is the Chairman of Trade Center Management Associates, which manages the Ronald Reagan Building and International Trade Center in Washington, D.C., on behalf of the U.S. Government. He is also the Chairman of the newly established World Trade Center Dublin, Ireland.
WebPort Global - WebPort Global (WPG), the newest endeavor of the Drew Company, is a custom-built interactive platform designed to facilitate business productivity at a higher level within a secure environment. Consider this space a catalyst for global business interactions and trade, where people, knowledge and opportunities come together. It is the culmination of more than two years of research by a team of seasoned international trade professionals interested in promoting better global access for small and medium sized enterprises. WPG extends your reach by bringing a central space for global business to your desktop.